Deprecated: Function get_magic_quotes_gpc() is deprecated in /customers/4/f/3/raphael-kempermann.de/httpd.www/wp-includes/formatting.php on line 4798
Deprecated: Function get_magic_quotes_gpc() is deprecated in /customers/4/f/3/raphael-kempermann.de/httpd.www/wp-includes/formatting.php on line 4798
Filmmusik Raphael Kempermann
Mein Angebot:
Musikalische und technische Beratung.
Komposition und Produktion vom Entwurf bis zum sendefähigen 48 khz/24bit-Master.
Ditigale Mock-ups, griffige Elektrobeats und authentische Jazzarrangements.
Ein Netzwerk von Studiomusikern, professionellen Sprechern, Orchestratoren und Arrangeuren.
Das Studio: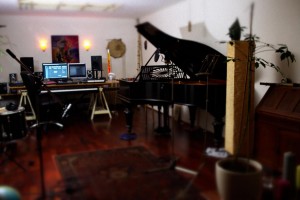 "State of the art" Equipment
Digitale Sample Librarys / (East West/Project Sam/Spitfire Audio...)
Auswahl an hochwertigem Instrumentarium (Bechstein, Tama, Pearl...)
Meine Kompositionen
gründen auf einer fundierten musikalischen und tontechnischen Ausbildung.
Jazzpiano Studium am Konservatorium Maastricht (NL)
Tontechnik Studium am SAE Institute Köln
Studio- und Live-Schlagzeuger; Keyboarder (u.a. Necrophagist, Venus Pulse, Blurry Empire)
Langjährige Produzententätigkeit in den Bereichen Hip Hop, Techno, Rock und Pop.
Filmton:
Über 10 Jahre Filmtonerfahrung fließen in meine Arbeiten ein.
Als Filmtontechniker begleite ich seit über 10 Jahren Filmproduktionen. Von der Daily Soap bis hin zu internationalen Kinofilmen lernte ich die Filmherstellung in allen Facetten gründlich kennen.
Ein kleiner Auszug:

"The House That Jack Built" Regie: Lars von Trier
"Nymphomaniac" Regie: Lars von Trier, nominiert für den europäischen Filmpreis.
"Out of Control" Regie: Axel Sand, starring: T.O.P. und Cecilia Cheung
"Honig" Regie: Semih Kaplanoğlu, Berlinale 2010: Goldener Bär, European Film Academy: Best Film
"Die Abenteuer des Huck Finn" Regie: Hermine Huntgeburth, deutscher Regiepreis 2013 - bester Kinder- und Jugendfilm
Kontaktinformationen
Adresse:
Aachener Str. 972, 50933 Köln
Telefon:
0178 / 25 83 68 6