Raphael Kempermann wuchs in einer Musikerfamillie auf und bekam in jungen Jahren von seiner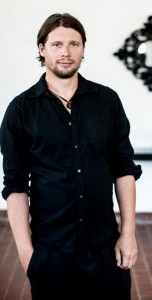 Großmutter Klavier- und vom Vater Schlagzeugunterricht.
Er vertiefte das Schlagzeugspiel und wurde 7 Jahre von dem Jazz- und Rockschlagzeuger Peter Götzmann unterrichtet.
Mit Schulfreunden gründete er seine erste Band: "Necrophagist",
die heute als Pioniere des Tech-Grind-Core gelten und weltweit Anerkennung finden.
Daneben erwachte seine Leidenschaft für computergenerierte Musik und er produzierte Hip-Hop und Techno und spielte deutschlandweit Konzerte und Festivals.
Es folgten ein Tontechnikstudium an dem Sae Institute Köln und ein Jazz-Piano Studium am Konservatorium Maastricht.
Mit Mitte Zwanzig folgte er seiner zweiten Leidenschaft: dem Film. Er lernte die auditive Filmherstellung bei etablierten deutschen Tonmeistern und in der Audio-Post-Production "Torus Gmbh".
Als Set O-Tontechniker war er über 10 Jahre an der Produktion nationaler und internationaler Kino- und Spielfilme beteiligt.
Er arbeitete u.a. an folgenden Projekten (Auswahl):
"The House That Jack Built"
Regie: Lars von Trier
"Nymphomaniac"
Regie: Lars von Trier, nominiert für den europäischen Filmpreis.
"Out of Control"
Regie: Axel Sand, starring: T.O.P. und Cecilia Cheung
"Collide"
Regie: Eran Creevy mit Nicholas Hoult, Ben Kingsley, Anthony Hopkins, Felicity Jones...
"Honig"
Regie: Semih Kaplanoğlu, Berlinale 2010: Goldener Bär, European Film Academy: Best Film
"Die Abenteuer des Huck Finn"
Regie: Hermine Huntgeburth, deutscher Regiepreis 2013 - bester Kinder- und Jugendfilm